[b]
Plot:
Over time powerful demons have been spreading around the world. So, all the great rulers summoned all exercists and warriors to return the world to normal.
Rules:
-Follow usual RPG rules
-Two Character Max
-Add "Notes" to characters that have something strange about them or whatever so people understand what's happening if for example:
Kantarou: He suddenly flinched in pain and grabbed his chest, there was a demon nearby.
-Characters from Anime, Manga, or Video Game.
-Exercists and Warriors Only
-NOTE: Exercists can be any type.
Exercist: A person who wards away demons or "exercises" them
-Examples: Kikyo, Allen, and any other character that uses some sort of spritual power to fight off a demon.
Warrior: Some one who fights with weapons or powers, nothing spritual.
-Examples: Edward, Eliwood, Lloyd
-Any Age Group
-We do no need role-players for demons, but we do for the "Big Bad Demon" pulling the strings.
-This includes pawns of course
-"Big Bad Demon" and pawns may be OCs OR Anime Evil Demons.
Characters:
-Exercists:
Kantarou- gold chocobo
-Warriors:
Maxi- Puppy
-Big Bad Demon: Gregory- Gold Chocobo
OC Character Profiles:
Character Name: Gregory
Username: Gold Chocobo
Age: 210
Gender: Male
Race: Dark Demon
Weapons: Poisonious Claws
Powers: Dark Sparks
Appearance: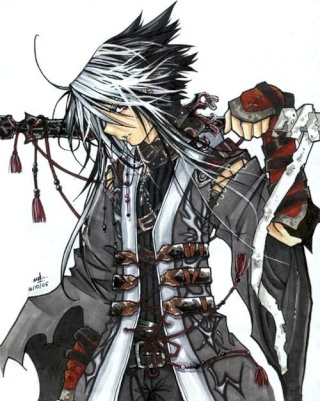 Short Bio: A dark demon that takes the form of a human. His dark sparks do not effect warriors, but do heavy damage to exercists. Despite his age, Gregory's appearance is young. He plans to destroy all exercists that destroy demons. He will not reveil his true form unless in desperate need.
Notes:
Kantarou- His old scar will hurt if a evil demon is near by, the stronger the demon, the more pain.
Glossary of Terms:
Youkai- Demons that are good but become evil when pocessessed by an aramana. If freed by a human and named, they have to follow the human's orders if they use their given name.
Aramana- A evil spirit caused by remorse, hatred, jealously, and many other reasons that take over a youkai, demon, or human. If exorcised the victim can be saved.
Heartless- Emotionless and empty creatures that devour worlds and embody everything that is darkness. Created by the darkness in hearts and take the hearts of others to create more heartless. There are two types: Pure Blood (like "Shadows") and Emblem (like Soldiers).
Nobody- What is left behind by those whose hearts have been consumed by Heartless. Those with a strong will keep their human shape. All others become humanoid monsters.
Tengu- Usually refers to goblin or ogre.
Oniqui Tengu- Demon eating goblin
Last edited by Gold Chocobo on Sat Oct 30, 2010 1:26 pm; edited 2 times in total
Almighty Mod







Number of posts

: 4928


Age

: 23


Quote

: Dead inside, My heart and soul flatlines! Put your mouth on mine...and bring me back to life!


Registration date :

2009-10-12



Instead of Haruka, can I have Maxi <3
Role Player







Number of posts

: 1184


Age

: 23


Quote

: "Nothing's perfect, even the Earth rotates on a tilted axis, just doing the best it can."


Registration date :

2009-10-25



Almighty Mod







Number of posts

: 4928


Age

: 23


Quote

: Dead inside, My heart and soul flatlines! Put your mouth on mine...and bring me back to life!


Registration date :

2009-10-12





Similar topics
---
Permissions in this forum:
You
cannot
reply to topics in this forum